Kid Power Students Celebrated on World Children's Day in Houston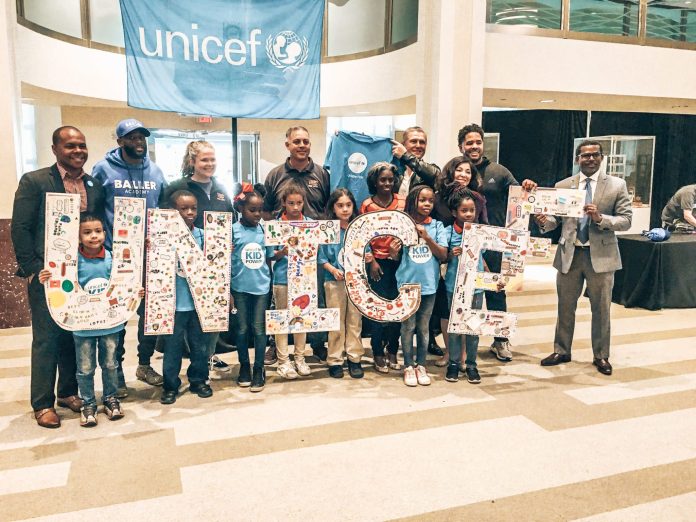 Celebrations for World Children's Day in Houston were among the finest in the country. A diverse group of communities came under one umbrella to support the global movement "for children, by children" and to show that the City of Houston is committed to being a child-friendly city, working to ensure safe, healthy and happy childhoods!
Over 350 global citizens participated in a full day of World Children's Day activities at Houston's City Hall. Together, they showed that the rights, voices, needs and priorities of children and young people will be heard!
It was also a time for celebrating the impact that children are already making in this world, especially in Houston. Nearly 100 students from Best Elementary were honored for being part of the UNICEF Kid Power team at a special press conference inside City Hall.
In the 2018-2019 school year, Best Elementary was the only school in the nation to have the distinction of saving the life of a child by completing Kid Power Ups.
This year, Best Elementary is already on track to save even more lives and also give back to their community with the world's first digital Currency-for-Good, Kid Power Coins.
After completing Kid Power Ups inside City Hall, students scored the opportunity to play soccer with former Houston Dynamo defender, Michael Chabala. It was an incredible way for students to take part in World Children's Day in Houston.
How Teachers Describe Kid Power
UNICEF Kid Power delivers a unique source of empowerment. Through the program, students realize their everyday activities, like moving and learning, can make a real-world impact. They become more engaged and active while learning critical social and emotional competencies like empathy, self-efficacy, and teamwork. These skills help empower them to work together to make a difference in the world.
"UNICEF Kid Power is a free platform that allows educators to meet social-emotional learning requirements for their classrooms."

– Houston 3rd Grade Teacher
UNICEF Kid Power is free for all teachers in the U.S. to use. Join thousands of others across the country connecting everyday actions to real-world impact. Sign up here!